What is the duck derby?
Band students will be selling numbered plastic ducks that will race down Nocatee's lazy river on September 16th at 9:00 am.
The 10 fastest ducks will win a prize, with the first duck crossing the finish line taking home $500!
Prizes will also be given to 2 students who sell the most ducks and/or sell the winning duck!
Each student's goal is to sell at least 20 ducks, but the more the merrier!
Make sure to contact your friends, and families near and far!
The race will be live streamed on Instagram, so everyone can watch, no matter where you live!
Due to Nocatee Splash Park regulations we are only allowed to have a few people attend the live event since it will be happening when the park is closed. We will have the band student leaders and band booster board set-up and commence the race. However, as mentioned above, the event will be live streamed for all to enjoy.
What do students need to do?
Each student needs to complete the attached form including the buyer's name, phone number, email, and payment type. Note: the two gray columns with the Duck Number and Verification will be completed when you turn in the form.
If selling more than 1 duck to a buyer, please fill out the first line on the form completely then just the person's full name on the following lines for each of the ducks purchased. This way the ducks can be numbered properly.
A parent booster representative will be upstairs in the band room on Tuesday afternoons for students to turn their forms in, along with any cash or checks (made out to Nease Band Boosters) they collected, and each student will able to choose their racers from a large variety of ducks.
If a buyer would like to pay via PayPal, please have them scan the QR code on the page to be directed to a form that the buyer will fill out with contact information AND the student's name who sold the duck (s)the band PayPal account.
Online purchased duck(s) still need the students to fill in their student form AND return to the parent booster representative on Tuesday for verification of payment, and for the students to pick out their ducks, along with numbering the ducks.
The duck number and payment verification will be noted by the parent representative on the student form.
The band boosters will notify the buyer(s) via email with their duck number(s).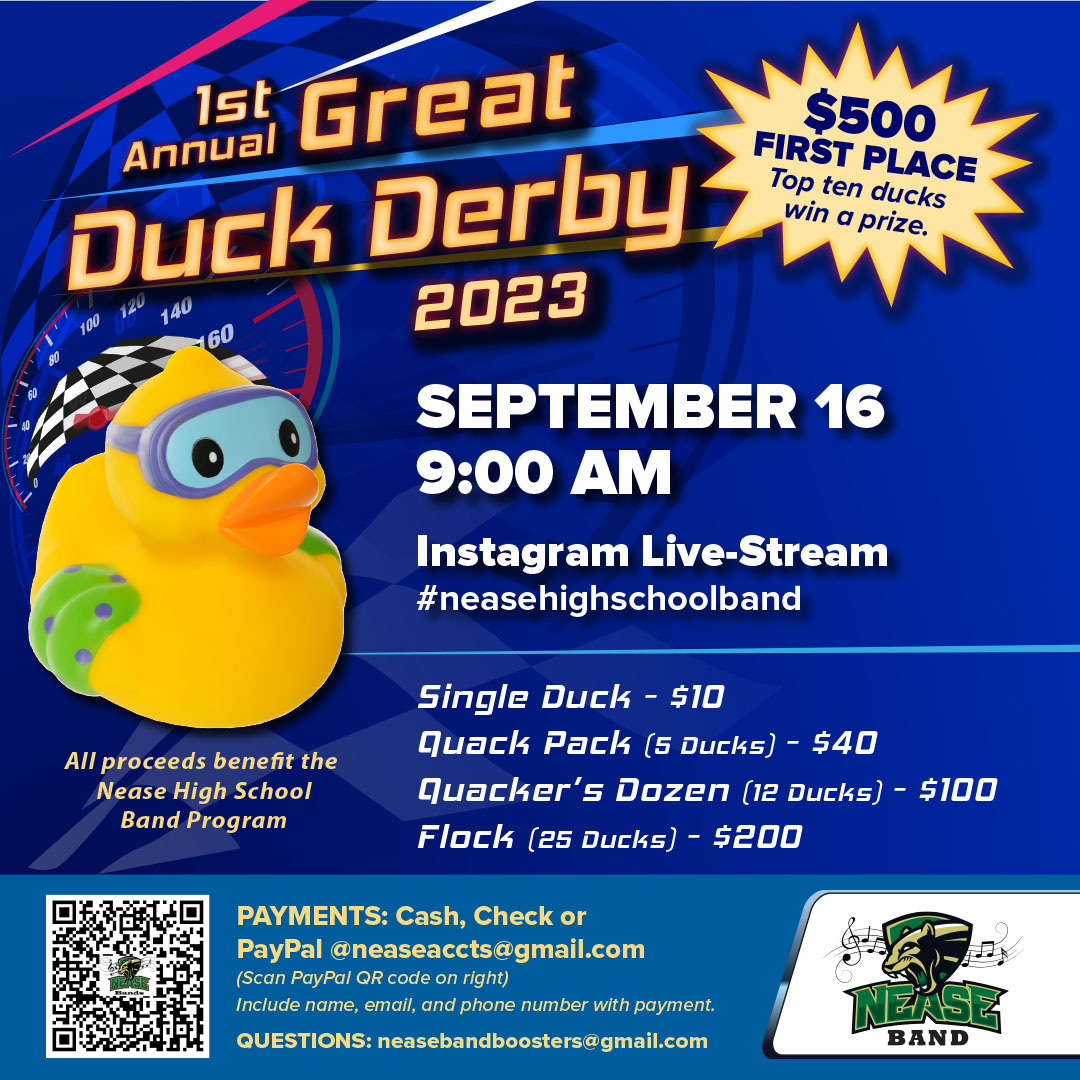 What are the costs for the Ducks?
Single – 1 Duck for $10
Quack Pack – 5 Ducks for $40
Quacker's Dozen – 12 Ducks for $100
A Flock – 25 Ducks for $200
Payments can be made via cash, or check (made out to Nease Band Boosters). Online payments can be made via PayPal – @[email protected] or scan the QR code above to purchase.